MIDI Capture
MIDI Capture allows you to capture cleaner pitch MIDI directly from within your DAW, minimising the need to clean up unintended notes and speeding up your workflow.
Adding the MIDI Capture plugin to your DAW
MIDI Capture is a separate plugin that works with any DAW that supports VST3 or Audio Units. You can find it as an
instrument
in your DAWs usual plugin list. For specific instructions on adding the MIDI Capture plugin in your DAW, follow the relevant
Getting Started with your DAW article
.
Connecting to Dubler 2
Once the plugin is added to a separate track in your DAW, it needs to connect to the Dubler 2 software, which can be opened directly from the plugin.


NOTE: The MIDI Capture plugin works as a companion to the Dubler app, and reflects changes and settings you have in your profile, such as key lock. MIDI Capture is simply recording and cleaning what you sing in the Dubler 2 app, Dubler is still what's translating your voice to MIDI information, so it's important to remember you have your mic set up and calibrated properly in Dubler.

A message confirming Dubler 2 and the VST are connected will appear in the bottom left of the app.
You can set up a separate track with any sound you want to control, and arm it to receive MIDI in real time from Dubler 2. The track containing MIDI capture does not need to be armed. All you need to do is press the spacebar to start recording with MIDI Capture.

You do not need to press record in your DAW, unless you also want to record your idea in real time as well.
New MIDI Capture track in Logic Pro
New MIDI Capture track in Ableton
Recording with the MIDI Capture Plugin
Pressing spacebar again will disable recording, and the MIDI clip will be available at the top.

MIDI Capture will offer both a raw and clean version of the clip, meaning you can decide whether you want the cleaning algorithm to be applied or not. The cleaning algorithm removes unwanted ghost notes and any leftover latency.
Getting your MIDI clip in your DAW
Click and drag to place the MIDI clip anywhere you like in your DAW :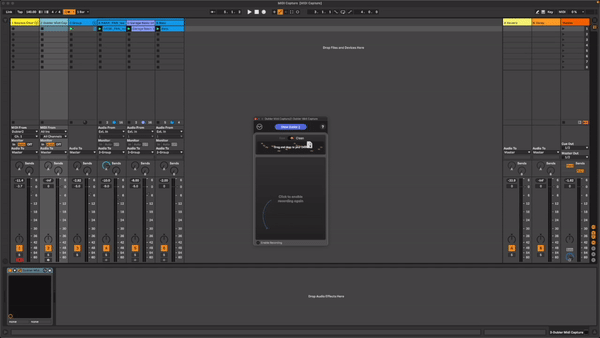 NOTE: Depending on your DAW settings you may receive a message asking if you want to import the tempo or time signature of the clip. You can select No as MIDI Capture uses the BPM set in the DAW at the start of recording. This means the clip will always fit the timing of the project.
Recording a new clip with the MIDI Capture Plugin
In order to record again, first enable recording at the bottom of the plugin. You can then start recording using the spacebar again.
Recording chords and triggers with the MIDI Capture Plugin
Currently MIDI Capture only works with pitch, but support for triggers and chords will be coming in future updates.
To record chords and triggers without the MIDI Capture Plugin, use Dubler 2 as a MIDI input in your synth or drum track. Find out about how to do this in your specific DAW
here
, or learn more about the
chords
and
triggers
functionalities.